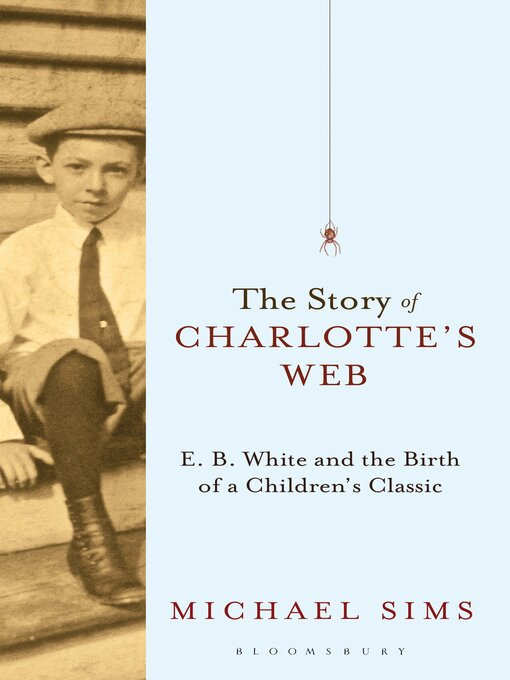 By Jean Farrington
E. B. White was a consummate stylist, a noted essayist, and an acclaimed children's author.  He was also a quirky fellow who felt more at home in nature than with most people.
The youngest of seven children and, probably an afterthought, he spent much time alone and haunted the stables, barns and woods near his home in Mount Vernon, N.Y.
When he was about eight, his family inaugurated the tradition of decamping to Maine for the summers, boarding the Bar Harbor Express for the train journey to Belgrade Lake.  There, young Elwyn, as he was then called, was in his element.  He loved being outdoors and closely observed and empathized with the field mice, the cows, the pigs and the birds in the region.
Michael Sims has written an absolute delight of a book, The Story of Charlotte's Web: E. B. White's Eccentric Life in Nature and the Birth of an American Classic.  While it is about how White came to write Charlotte's Web , it is so much more.  Sims puts himself inside the head and heart of young Elwyn, later Andy, and in a lyrical and most engaging style, captures this shy young man's keen rapport with nature's creatures and his tentativeness with people. 
White was slow to mature romantically; he had several tepid relationships, but wasn't particularly assertive or forthcoming.  That is until the arrival of Katharine Angell, a colleague staffer at The New Yorker.  Their relationship blossomed and they married and together worked and wrote and edited, initially from New York and Maine, and then later solely from Maine.
Although he and Katharine had no children, White was a favorite with his many nieces and nephews and created stories for them including some of the adventures of a mouse-like child.  Encouraged by Katharine and a librarian at the New York Public Library, White turned these stories into his first children's book, Stuart Little.  Published in 1945, it was a huge success, despite being soundly criticized by the very librarian who encouraged him to write it.
Ursula Nordstrom, children's book editor at Harper's, urged White to write another such book, but it wasn't until 1952 that Charlotte's Web appeared.  Even though Andy White's view of nature was imbued with some of the anthropomorphism prevalent at the time (works by Ernest Thompson Seton, e.g.), he felt keenly that if he were going to write a book about a spider he ought to know more about them beyond just his barnyard observations.  Consequently, he spent almost a year researching spiders and reading the scientific works about them then available.  White wanted Charlotte to lay her eggs at the right time of year and to have her other behaviors be true to real life.  He "identified closely with Charlotte. …She embodied the spirit of the barn, which he had once described as almost a sacred space, a stage for birth and death and the rhythms of life."
Eudora Welty, one of the first to review the book, wrote: "'What the book is about is friendship on earth, affection and protection, adventure and miracle, life and death, trust and treachery, pleasure and pain, and the passing of time.  As a piece of work, it is just about perfect, and just about magical in the way it is done.'"
I have fond memories of my father reading me Stuart Little and Charlotte's Web and then savoring them later on my own.  To this day, Charlotte is one of my favorites and Sims' book a great romp with Andy White.
Filed under: Jean Farrington, Out of Nature